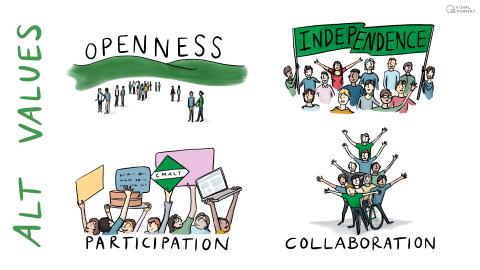 Our events programme is at the heart of the work we do and attracts over 5,500 participants a year. Through a varied programme of webinars, workshops and conferences we increase access to expertise and continuing professional development (CPD) for Members and participants from across education and training sectors. 
In 2023 we will celebrate our 30th anniversary as the leading professional body for Learning Technology, and launch a new events programme that has been developed to meet the needs of our community and deliver value for our Members. 
Here is what's in store: 
We are launching a

new annual virtual summit

for (emerging) leaders which  will focus on key issues identified through our annual survey; 

Our highly successful

CPD webinar series

will expand to include experts from across sectors, offering regular professional development aligned with the CMALT accreditation framework; 

ALT's

flagship Annual Conference and OER Conference

will continue to innovate as leading hybrid conferences in their field;

Our new

in person 1 day events,

taking place annually across the UK, will expand opportunities for networking and knowledge sharing. 
We are really excited to bring new events into our established calendar of activities and to continue our CMALT Webinars and support the work of ALT Member and Special Interest Groups.
Increasing benefits to our Members
We have welcomed many new members in the past year and we value our growing membership, many of whom have been Members for many years.
We are working hard to ensure that our new events programme delivers value for Members all year long, and offers valuable opportunities to network, for professional development and recognition. Only Members receive: 
Discounted rates to attend all paid events;

Free access for members to live CPD webinars and session recordings;

Weekly events updates via email;

Opportunities to join conference committees and play a role in shaping our events; 

Members-only access to Member Groups events and activities throughout the year. 
Look out for new events launching in early 2023. 
Topic: