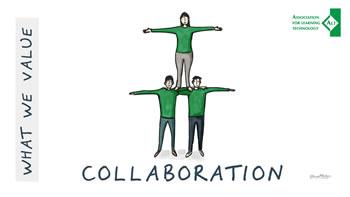 ILTA and ALT are pleased to announce a new joint initiative to evaluate the CMALT programme in terms of personal professional development and appropriateness for the Irish TEL community. 
As part of this initiative we are offering 10 free places to ILTA Members to undertake CMALT and submit their portfolios for assessment by 1 February 2018. In return ILTA asks that ILTA Members wishing to participate commit to the following deliverables: 
1. That you co-author a report on your CMALT experience
2. That you co-author and submit a journal article to the Irish Journal of Technology Enhanced Learning
ILTA Members interested in participating should contact ILTA directly. 
Paul Gormley, Chair of ILTA, said, '
ILTA is keen to identify opportunites to support our members through continuing professional development and research inititiatives. We are particularly interested in supporting colleagues who are moving into leadership roles that necesitate strategic decision making. We are delighted, therefore, to be able to work with our ALT partners in this CMALT joint-research initiative.'
Maren Deepwell, chief executive of ALT, said, 'ILTA and ALT work together for the benefit of both of our member communities to advance professionalisation in Learning Technology in Ireland and the UK, contributing to a wider global effort. We are now looking forward to this new joint initiative, which will enable us to map accreditation frameworks and professional roles in order to provide wider recognition and accreditation for our Members.'
ALT also invites ILTA Members to participate in a new CMALT initiative, designed to provide a structured, peer-based framework for individuals undertaking CMALT independently or as part of a group.
We will provide open online support – in the form of dedicated resources and feedback from tutors and peers – for candidates as they complete CMALT. They will be able to follow a variety of pathways, including any or all sections of the CMALT portfolio, over a period of up to six months, leading to completion and submission of their CMALT portfolio.
The new initiative will incorporate the piloting of two new CMALT strands, for early career candidates, and for candidates in senior and leadership roles. 
If you would be interested in finding out more about this initiative, or in taking part in one of the new strands being piloted within the CMALT framework, or if you have CMALT resources you would be interested in contributing, please sign up at: http://go.alt.ac.uk/cmalt-pilot-registration.
Topic: