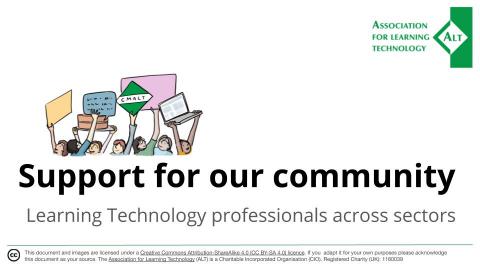 We support our community during this crisis. Our members are under exceptional pressure as institutions plan and implement social distancing measures within learning and teaching. We are regularly updating this page and linked resources.
As part of our efforts, ALT is runing a series of expert webinars on how we run events online. ALT has been running fully online and blended events successfully for many years. Our Online Winter Conference attracts hundreds of participants each year and we are now receiving many requests to share our expertise. In these webinars ALT senior staff Martin Hawksey and Maren Deepwell will share their expertise on how we run online conferences, lessons learnt and common considerations if you are about to embark on this yourself. Openly sharing our approach to leading ALT's staff team is a key part of the work we do, and we publish a regular blog series on this topic, see https://marendeepwell.com/?page_id=2070.
How we run an online conference: ALT shares expertise: live webinars, recorded session (session 1), slides with links to resources. 
The next session is on 29 April 2020, 3pm BST. The session is free to attend and open to all. Sign up here. 
Topic: