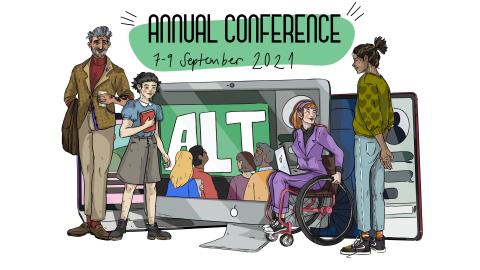 We are super excited to bring you a packed social programme for this year's Annual Conference, with lots of opportunities to join in with hundreds of participants from the UK and across the globe, to make new connections and meet old friends!
The conference has a packed schedule over three days, so in the social programme for this year's event we have included well-being activities to help you wind down and provide space to take a breath; get involved with creative and playful activities as well as events to celebrate our achievements as a community. Here's a taste of what you can look forward to: 
Monday, 6th September
On the day before the conference, we are kicking things off with the return of the popular #altc21 quiz and are then taking to the air waves with a special #altc21 radio show hosted by The Thursday Night Show. 
Tuesday, 7th September
Join us live to find out how to interact with a new conference buddy through our Discord platform.  During lunch we have networking spaces and an #altc21 treasure hunt! At the end of day 1 we will come together to celebrate the achievements of newly accredited CMALT Members at this year's CMALT Ceremony. 
Wednesday, 8th September
Start your conference with a 30 minute session of chair yoga hosted by Lit Yoga.  This fully accessible class will have you laughing, stretching and preparing yourself for the day ahead.
During lunch, alongside our sessions from Canvas LMS and Wooclap we have a creative writing workshop. Join Louise Green from University College London, Institute of Education for a truly collaborative workshop centred around academic writing. 
All participants are invited to join a special gala event at the end of the day's programme, chaired by Professor Helen O'Sullivan, celebrating the launch of the ALT/ITN Productions collaboration to produce The Future of Learning programme with contributions from ALT Members. 
After a jam packed day of sessions join Niki Puspoki Yoga for a 30 minute guided meditation experience.
Thursday, 9th September
For the final day we invite you to a lunchtime stretch and refresh yoga session which is open to all. For the conference wind down after the programme has finished, tune in online to The Thursday Night Show. Grab yourself a little tipple or your favourite brew and get involved via the zoom, chat or just by dancing around your living room, the perfect way to unwind after a tremendous 3 days!
Register today to join us from 7-9 September or apply for a scholarship place.
Topic: