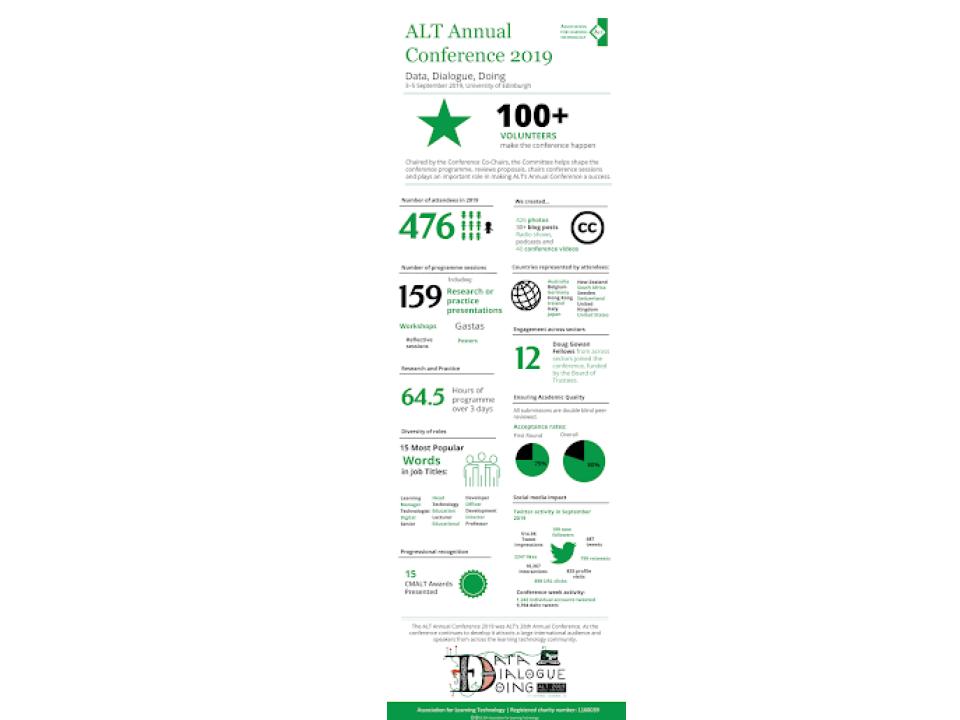 As we head towards the end of 2019, we are already well into the planning and preparation stages for our Annual Conference 2020. Scheduled for 9-11 September, the event will be hosted at Imperial College, in the heart of London. Now in it's 27th year, the Conference promises to bring together professionals to disseminate research, share practice, and develop policy. 
Our call for Committee Members for the 2020 Annual Conference is open, and we are looking for volunteers to help shape the Conference. This year, we are offering all volunteers an opportunity to sign up for what they are particularly interested in helping with in the run-up to, and during ALT's Annual Conference. The work of the Committee will start in January 2020 as the Call for Proposals is issued and continues up to the conference in September 2020. Committee Members meet online every month but continue to work together to plan activities, promote the event and support participants between meetings. If you would like to get involved, please express your interest to join the Conference Committee by completing this form before 30 November.
ALT Annual Conferences are led by our Members. The Conference Committee will be chaired by our Conference Co-Chairs:
Roger Emery, Head of Learning Technologies, Solent University,

Farzana Latif, Digital Learning Manager, University of Sheffield,

Matt Lingard, Digital Learning Director, London College of Communication.
The call for Committee Members closes on 30 November 2019. 
Topic: