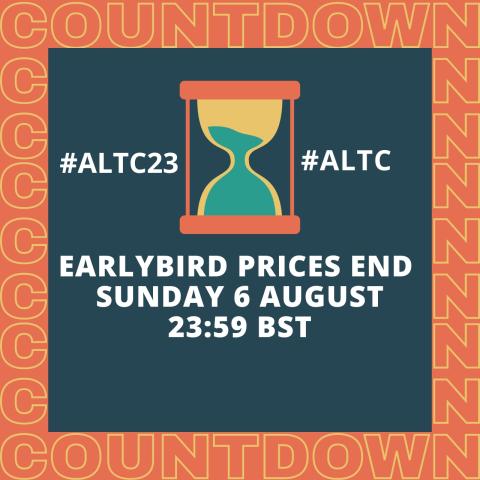 Earlybird prices end this Sunday 6 August at 23:59 BST.
There is less than one week left to secure earlybird tickets for ALT's Annual Conference 2023 and take advantage of the best-value prices that we have ever offered. Our earlybird residential package offers full access to all conference sessions and post-event resources, and includes on site accommodation and all of our social events. Members always get the lowest rate with an extra discount. 
This year's conference theme is "Looking through the digital lens: 30 years of Leading People, Digital and Culture". We could not be prouder of the packed conference programme that has been expertly curated by the conference committee, with over 80 unmissable sessions focusing on:
Leading People in a time of complexity
Diversity and Inclusion
Sustainability and Social Justice
Emerging technologies and behaviours
Our keynotes include Anne-Marie Scott, the first winner of ALT's Award for Leadership in Digital Education, Chair of the Aperio Software Foundation and former Deputy Provost of Athabasca University. Anne-Marie's keynote will reflect on leadership in difficult times. Satwinder Samra, Director of Collaborative Practice at Sheffield University School Of Architecture, architect, educator and Bafta winning presenter. Satwinder's keynote will reflect on the designing of a new practice based architecture Masters programme and reveal how a more agile teaching approach allows for better inclusion and increased diversity. Finally, ALTC23 will close by hearing directly from students who will provide first-hand insights into the lived experiences and perspectives of learners experiencing campus life in the UK in 2023.
As well as first-class learning opportunities, #ALTC23 offers a wealth of opportunities for you to connect with your peers outside the classroom. Opportunities to network are provided throughout the conference and, for those new to the conference, we have sessions to help you meet and greet fellow delegates. Join our afternoon tea, sponsored by Jisc, or our post-conference drinks reception to catch up with old friends or make valuable new connections.
In celebration of ALT's 30th Anniversary we will be holding a spectacular Gala Dinner in the fabulous Slate venue. Join us to celebrate 30 years of ALT with delicious food, live music and our Annual Awards presentation.
Hear more about what's in store on ALT's Blog or follow the #ALTC23 conversation on Mastodon, Linkedin and Twitter.
Register now and join us at the University of Warwick on 5-7 September for three days of learning, networking and furthering your career. Earlybird prices end at 23:59 BST on Sunday 6 August.
Scholarships are available and applications are open until 11 August.