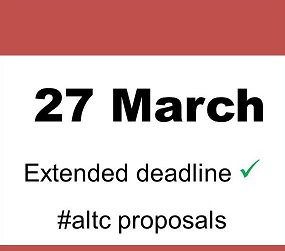 The Call for Proposals is now open and the deadline has been extended to Midnight BST, Monday 27 March 2017. Submit your ideas for a poster, lightening talk, presentation, panel, demo, workshop... or make a wildcard submission. You can view it as a Google Doc or download a PDF.
Key dates
Webinar for potential authors: recording now available
Deadline for submissions is extended to Midnight BST, Monday 27 March 2017
Notification of acceptance: May 2017
Register to attend: May 2017
Webinar for accepted authors: August 2017
Proposals for different session formats:
You can submit proposals for one of the following:
Posters (displayed in print and online)
5 minutes: Lightning talk, usually a presentation
20 minutes: presentation with time for questions or a brief discussion
40 minutes: research presentation, technical demonstration or discussion, all with an interactive element for participants
1 hour: workshop or panel discussion, fully interactive format.
Please see the full Call for further information and guidance on how to submit your proposal.
How to submit your proposal:
Submissions are made via the Open Conference System (OCS) at http://ocs.sfu.ca/alt/index.php/conferences/altc2017/index
1. Login or create a profile (NOTE: in order to make submissions you will need to create an account as an author by selecting the appropriate tick box at the bottom of the page)
2. Go to the 'User Home' page and select 'New Submission'
3. Follow the instructions on screen to submit your proposal
4. You can track the progress of your submission at any time from the 'User Home' page.
Topic: