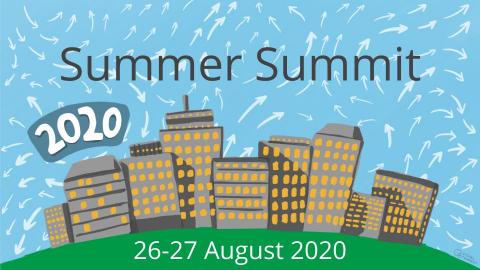 We are delighted to announce that a number of free scholarship places are still available for the Online Summer Summit this year, thanks to our first Scholarship Sponsor, Vevox. The deadline for applications has now been extended to 14 August 2020. 
Organised by ALT as the leading professional body for Learning Technology in the UK, the Summer Summit will bring together leaders, researchers and practitioners from across sectors. With a packed programme over 2 days we will explore the themes of crisis, care and complexity with an international line up of featured speakers, practical sessions and panel discussions on topics ranging from assessment to student well being.
Scholarship registration includes:
Pre-conference orientation & networking sessions

Access to all live and asynchronous sessions

Social programme

Opt-in participant list for networking

Recordings and session materials post conference

Access to Jobs Boards and Directory
If you are interested in a free place to attend the summit, please apply here: https://forms.gle/v4KfzkQcridH8wk69 
Closing date: Friday 14 August 2020
Who can apply? 
Scholarship places are available to support individuals based anywhere in the world; 

This scholarship option is specifically available to unfunded individuals, teaching and support staff and students, members of the public who are not otherwise supported by an organisation.

We particularly aim to fund individuals impacted by the COVID-19 pandemic.

The funds available to cover registration costs are limited and will be decided on merit.

There is no appeal procedure once a decision has been made.

You may be required to provide evidence of your circumstances in order to qualify (e.g student number, line manager's letter, etc).

Any inaccuracy in the description of your circumstances will lead to any awards being withdrawn.

If you are awarded a scholarship but are unable to attend you must inform us as soon as possible. 
Our scholarship sponsors
Vevox is the award-winning live polling and Q&A app designed to increase student engagement and knowledge retention through interaction. Accessible on any smartphone, tablet or computer, Vevox is a simple to use Student Response System (SRS) for your online, hybrid or face to face classes.
Vevox helps educators to gain instant student feedback, test knowledge, increase participation and above all give every student a voice. Used in 150+ countries by over 1500 businesses and educational institutions, winner of the 2018 Bett Award for higher education and the highest independently rated SRS system on the market (4.8 out of 5 on Trustpilot.)
Topic: