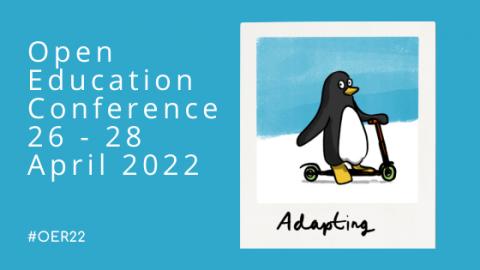 We are pleased to be able to offer scholarship places to participate in OER22, either in person and online, or online only.
Applications are welcome from all of the community, including speakers for the event.
Organised by the Association for Learning Technology and Co-Chaired by the Global OER Graduate Network, this year's 13th annual conference for Open Education research, practice and policy will be the first hybrid edition of this much-loved event.
The full three day programme will feature speakers from across sectors and bring together experts to discuss the most urgent questions facing institutions and individuals as they scale up the use of technology for learning, teaching and assessment. The conference will put the spotlight on both the value and limitations of Open Education in a (post)pandemic world. This year's themes include; Pedagogy in a time of crisis, Open textbook, Open in Action, Open research and Wildcard proposals. 
26 - 28 April 2022, London UK and Online 
Who can apply?
Scholarship places are available to support individuals based anywhere in the world;

This scholarship option is specifically available to unfunded individuals, teaching and support staff and students, members of the public who are not otherwise supported by an organisation.

We particularly aim to fund individuals impacted by the COVID-19 pandemic.

The funds available to cover registration costs are limited and will be decided on merit.

There is no appeal procedure once a decision has been made.

You may be required to provide evidence of your circumstances in order to qualify (e.g student number, line manager's letter, etc).

Any inaccuracy in the description of your circumstances will lead to any awards being withdrawn.

If you are awarded a scholarship but are unable to attend, you must inform us as soon as possible.

If applying to attend in person in London, please note that your scholarship place will cover the cost of registration but delegates will need to arrange their own travel and accommodation
How to apply?
To apply for a scholarship, please complete this google form. Please note, for scholarship applications to attend in person the registration deadline is 14 April 2022.
Become a scholarship sponsor!
Applications from organisations are now open to become a scholarship sponsor for just £570. Support members of the community to attend the conference, helping us keep with the spirit of 'open' by removing barriers to participation.
To find out more please email eventsmanager@alt.ac.uk.
Learn more about the Open Education Conference. 
Topic: