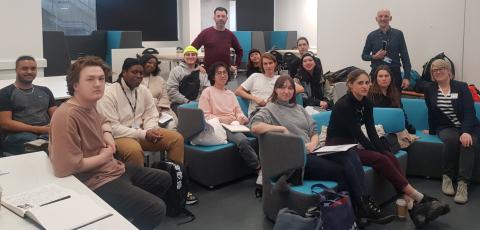 Last week we launched a competition for the artwork for this year's conference. Along with the launch of this website and the Call for Proposals it is starting to feel real now! Later this month the volunteer conference committee will also meet for the first time.
The artwork competition is being run as a project brief for students at the London College of Communication, University of the Arts London. 
The students are on the BA (Hons) Illustration and Visual Media taking a studio called Sequence & Time as part of their 2nd year unit, Situated Studio Practices. They are producing the conference artwork as part of their coursework.
The winning artwork will be used on the conference website, on printed materials and the stage backdrop in the main lecture theatre.
The Studio Tutor is Leigh Clarke, an artist who works with print to create projects and art works in public spaces. Leigh said: 
"We are excited to be working with the ALT. The live brief will allow students to explore a personal direction through a variety of solutions that will investigate and respond to the needs of an audience. The opportunity will help students examine their individual aims and positioning as an Illustrator in art and design. They will develop new approaches to Illustration through the use of traditional and contemporary media and increasing their focus on personal direction and individual responses to ideas and set problems. Within this brief, their application of Illustration skills will respond to real world problems and case studies."
Maren Deepwell, ALT's CEO joined me at LCC and we spent an hour talking to the students and taking questions about ALT, the conference and learning technology. There were a lot of questions! If you're interested to see what we said to them, take a look at our project briefing.
The students now have four-weeks to create the artwork and in March Maren and I, along with Leigh, will be selecting the winning artwork. The successful student will win £300, a certificate and a free place at the conference. Oh, and their artwork will be everywhere! We're really looking forward to seeing what they come up with.
This brief follows a similar one last year, where students from Hereford College of Art took part in a competition to produce the Learning Technologist of the Year Awards. Last year's winner was Lisa Mclaughlin, a 2019 graduate from the B.A.(Hons) Textile Design course.
Topic: