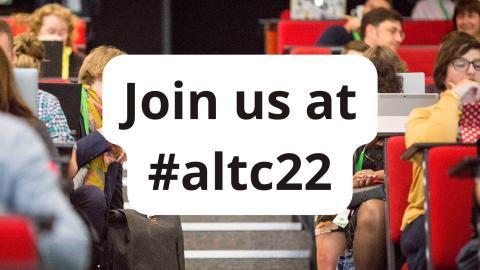 We have less than 20% of our exhibition spaces and only two types of sponsorship packages remaining, we are excited to share more confirmed sponsors and exhibitors that you can meet at this year's Annual Conference. 
Explore those already confirmed as sponsors and exhibitors this year. 
Sponsors

 
The 2022 ALT Annual Conference sees Edtech leaders, innovators, and educators from around the globe come together across 3 days both in-person and online. We are excited to announce that the following organisations are supporting this year's ALT Annual Conference. 
Conference Theme sponsors: 
Digital transformation beyond the crisis: what is your vision for learning, teaching and assessment? This theme is focused on how we are transforming education and training through digital practices in a post-pandemic world.

Open LMS leverages open-source software to deliver an effective and engaging online learning experience. As the largest commercial provider of hosting and support services for the open-source Moodle™ learning platform, we help organizations and institutions deliver the best learning experiences without complexities.
Website: https://www.openlms.net/
Twitter: @openLMSteam
Co-creation with learners: This theme explores how to use digital technology in partnership with learners to design sustainable approaches that work for everyone. How can we co-create student engagement and enjoyment and make the learning experience more open, inclusive and equitable?
McGraw Hill is a global pioneer in educational content, assessment, training, and platform innovation; and is one of the world's largest educational companies, with products and services in more than 60 languages and 130 countries.
Website: mheducation.co.uk
Twitter: @mhe_emea
Conference Supporters
Showing their support for our community and the work we do are our conference supporters; 

The Texthelp Group has spent three decades developing innovative education software tools that support literacy, accessibility, maths and science. With 60 million users across the globe, their software tools have a tangible, positive impact upon the educational development of countless students. 
Texthelp software includes Read&Write, Equatio© and OrbitNote© - working everywhere learning happens. Across all devices, platforms and content types, they seamlessly integrate with the tools teachers and students already use. 
With over 350 staff based across the UK, Nordics, US and Australia, the Texthelp mission is to help everyone understand and be understood. Visit www.texthelp.com for more information.
Website: www.texthelp.com
Twitter: @texthelp

The Global OER Graduate Network (GO-GN) is a network of doctoral candidates around the world whose research focuses on open education. These doctoral researchers are at the core of the network; around them, over two hundred experts, supervisors, mentors and interested parties connect to form a community of practice.
The aims of the GO-GN are to: raise the profile of research into open education offer support for those conducting doctoral research in this area promote equity and inclusion in the field of open education research develop openness as a process of research.
Find out more and join the network: https://go-gn.net/join/
Website: https://go-gn.net
Twiiter:@GOGN_OER
Scholarship Sponsor 

Founded in 2004, PebblePad is an award-winning online learning platform designed to help educators deliver student-centred learning at scale. Combining the powerful features of an ePortfolio with a unique set of assessment capabilities, PebblePad has successfully transformed learning (and improved the student experience!) at institutions across the UK, Australia, and North America; including over 30 of the top-ranked global Universities.
Website: www.pebblepad.co.uk
Twitter: @pebblepad
Exhibitors 
We are excited to have an exhibition space at this year's conference, below you will find an overview of the organisations you can expect to see at the conference, with many of this year's sponsors also exhibiting. Learn more about our exhibitors. 
There's still time to get involved! 
With limited spaces and packages now available we eagerly invite organisations to explore our options to get involved in this year's conference as soon as possible and invite you to complete our online form to book now. Remember that Member organisations of ALT are automatically entitled to a 20% discount.
Email conferences@alt.ac.uk to find out more or discuss how you can get involved and make the most of exhibiting with us or sponsoring the Conference
Topic: