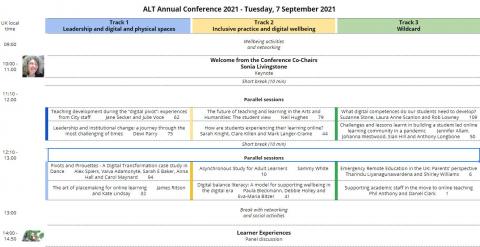 Join us on 7-9 September 2021, as we come together to explore 'Shared Experience, Different Perspectives' at this year's Annual Conference.
We have now launched the full programme, spread over three days and packed with discussion panels, research and practice sessions as well as video posters. WIth inspiring keynotes from Professor Sonia Livingstone, Mutale Nknonde, Dr Lou Mycroft. 
Registered delegates are invited to join us for pre-conference activities from 1st September, including orientation and networking sessions and a full day of pre-conference workshops on 6th September. 
Explore the full programme, keynote and featured speaker line up to find out more.
 
ALTC21 Delegate Badge
Participants will shortly be issued with a delegate badge for participating in the annual conference. If you have already registered, please keep a look out for the email from Open Badge Factory. 
Keep up to date with ALTC21 news via the conference platform and follow #altc, #altc21 on social media.
The Annual Conference is brought to you with support from our conference Sponsors and Partners, including our Headline Sponsor – Canvas LMS by Instructure. 
Register today to enjoy the UK's foremost gathering of Learning Technologists.
Topic: