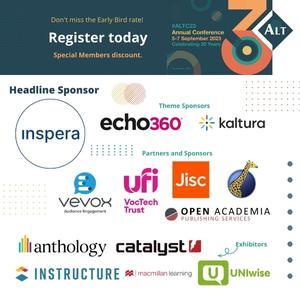 We're delighted to announce that the draft programme for ALTC23 is now available!
The fully peer-reviewed programme of over 100 sessions will explore  "Looking through the digital lens: 30 years of Leading People, Digital and Culture" with a focus on
Leading People in a time of complexity
Diversity and Inclusion
Sustainability and social justice
Emerging technologies and behaviours
Learn more about our confirmed keynote speakers Anne-Marie Scott and Dr Atif Ghani and watch this space for our final keynote announcement. 
Alongside the packed programme, our wide offering of social events, including a special celebration of 30 years of ALT, will provide plenty of opportunities for informal networking and connecting with your peers. 
Our best-value early bird residential package offers full access to all conference sessions and resources, and includes on site accommodation and all of our social events. Members always get the lowest rate with an extra discount. Scholarships are available and applications are open. 
Bookings are flooding in and we anticipate a sell-out event!
Keep up to date with what's in store via the conference hashtag #ALTC23. Follow us on Twitter, LinkedIn and Mastodon.