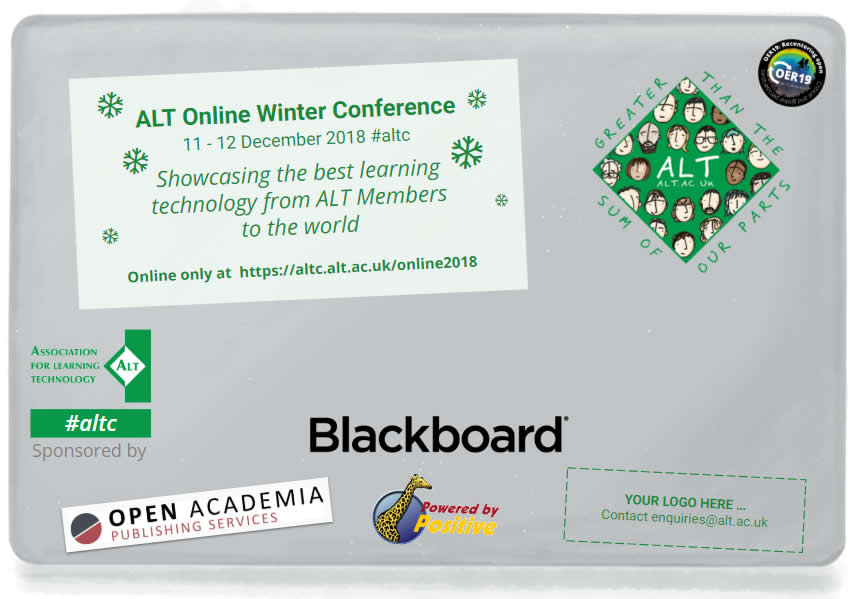 Our 5th Online Winter Conference will take place online 11-12 December 2018, giving ALT Members an opportunity to highlight some of the work they and their community have been involved with and to gain feedback from peers. The format of the event is designed to be multimodal, combining both asynchronous and synchronous communication, and to cross boundaries, sharing the work and expertise across ALT SIGs and Members Groups and the wider community.
We have three types of sessions explained below plus a wildcard option if you would like to try another format. As with previous years the conference is designed to be a festival of learning designed to increasing the impact of Learning Technology for the wider community.
Session types
Webinar - 30-minute session (with min 10 min for discussion or Q&A with participants)
Tweetchat - 30-minute discussion (please include a #tag in your proposal)
Edit-a-thon - 60-minute session where you facilitate the editing and improvement of an existing resource (please include a link to the resource)
Wildcard/Other - Up to 60 minutes to do something different
The deadline for submissions is 19 November 2018. Proposals will be checked for eligibility, fitting within the chosen session type and programming restraints within each time slot. All authors will be notified of their acceptance or otherwise in w/c 19 November.
Registration for the event is still open and completely free to ALT members.  Want to support the conference? Sponsorship opportunities are available from £300.