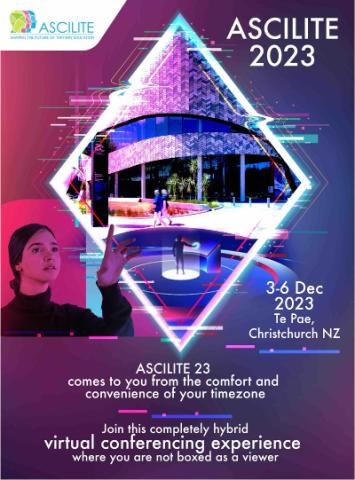 ASCILITE, the Australasian Society for Computers in Learning in Tertiary Education, is an incorporated not-for-profit professional association for those engaged in the educational use of technologies in tertiary education in Australasia. There is a long-standing collaboration between ALT and ASCILITE and in recent years we have actively worked together on initiatives including CMALT Australasia and baselining best practice Open Access journal publication.
ASCILITE's 40th International Conference on Innovation, Practice and Research in the Use of Educational Technologies in Tertiary Education takes place 3-6 December 2023 at the University of Canterbury in Christchurch, New Zealand. The conference focuses on the following themes:
diverse People  
deeper Partnerships
digital Pedagogy
ALT at ASCILITE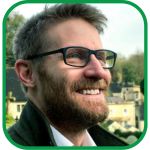 ALT's President, David White, will be the opening keynote this year and will also be facilitating a pre-conference workshop.
David's keynote is titled Being effective isn't authentic: Building digital education culture. Tertiary education is an admixture of learning and cultural opportunity. Yet, even though we now live out much of our lives online, the digital is predominantly promoted as flexible and efficient, not as a cultural location, or 'place'. This leads to an over insistence that, despite being blended or online, there will be belonging and community in the digital education we offer. In his talk, David will explore these tensions to unpick the current cultural standing of digital education and critique notions of (in)authenticity which, David argues, are built on bias and privilege. David will propose that we repeatedly attempt to demonstrate pedagogic effectiveness when we should focus on reimagining our institutions as primarily digital in character and location.
David's Pre-conference workshop is titled Changing identities: exploring and describing the shifting landscape of Digital Education roles. It is crucial that we develop meaningful and 'authentic' career paths as Digital Education adapts to becoming a mainstay of our institutions. Using the CMALT framework as a guide, the workshop will explore and map roles and how they interrelate. This is a chance to share how participants are perceived within their institutions and what factors best support them to enhance practice and develop a strategy. Participants will gain insight from each other's experiences and develop strategies to influence the direction of travel of their careers and the 'geography' of career pathways at their institution.

Fellow Trustee, Professor Peter Bryant will lead a panel session with Dr Donna Lanclos and Professor Lawrie Phipps titled The End of Learning Design? The challenges of finding equilibrium, navigating the snap back and leading innovation in post-crisis teaching and learning.
Want to attend the ASCILITE conference but can't travel?
Join us virtually and dip in and out of over 150 conference presentations from the comfort of your home or office.
Gone are the days of virtual conferences requiring 8 hours in front of the screen. ASCILITE23 is hybrid (yes you heard that right hybrid not just virtual or face-to-face). You can be in control of your experience thanks to this year's complete virtual conferencing platform. 
Watch sessions live or recorded
Make (and export) your own notes 
Build your community through connections with participants and sponsors wherever they are through the social wall and meeting hub
And no FOMO: The conference platform and app will be available for 6 months after the event which means you can watch sessions you missed out on at when it suits you. The full list of presentations is available on our website.
But don't leave it too late. Registration via Invoice close 13 November. However, registration via credit/purchasing card will remain open right up until the event.