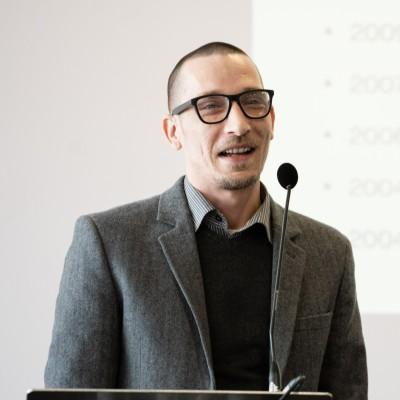 We are delighted to update members that the Association has appointed Billy Smith as our new Chief Executive. 
Since the announcement of this leadership transition in February, the recruitment panel, chaired by ALT's Chair Helen O'Sullivan, has worked through a rigorous and competitive selection process that involved the staff team, Trustees and ALT's HR and EDI advisors.
Helen commented: 
"Billy immediately stood out from the strong pool of applicants through his strong commitment to the values and principles of ALT as a membership organisation. His energy and enthusiasm impressed the Panel and we are confident that he is the right person to take ALT forward into the next phase of our development."
Billy will join the team in early August and formally take on the role of Chief Executive at this year's Annual General Meeting, which will take place on Wednesday, 6th September 2023 during our Annual Conference in Warwick. The AGM will also be our opportunity to say thank you to Maren Deepwell, who will step down as Chief Executive on that date.
We invite you to warmly welcome Billy together with our Members, staff and Board of Trustees. 
Meet Billy Smith, Chief Executive Designate 
I am exceptionally honoured to be appointed Chief Executive to lead the Association for Learning Technology from September 2023, following a rigorous interview, task and panel selection process. I'm enormously proud to lead the organisation forward and represent all our members.
I look forward to working with all stakeholders to build upon the existing strengths of our organisation and accelerate growth. We have a very clear purpose, vision and aims. I'm excited to lead the team to further increase our impact and reach across the UK and beyond. 
My career and experience spans across the themes of digital strategy, digital transformation, education management and learning technology. It is always exciting to discover new technologies and learn how these are being used to enrich learning and enhance the quality of education. I have been truly inspired by so many professionals throughout my career who have also been incredible role models and mentors. 
I'm an experienced lecturer, learning technologist and education consultant with successful experience working across all phases of the education sector and local authority government. I began my career in 2005 and have been privileged to hold a number of roles which include Head of e-Learning, VLE Programme Director, National IT Education Manager, Learning Technologies Officer and Assistant Principal. 
I have successfully managed and supported hundreds of projects from inception to completion throughout my career. A number of which were recognised nationally as best practice, gaining praise from professional bodies including Ofsted. 
Since January 2020, I have been a freelance consultant supporting schools, colleges and training providers across the UK on a range of assignments. This includes two short-term interim management positions as; Head of Digital/ILT and Assistant Principal (Learning Technologies and Development) at two large further education college groups. The projects involved developing digital strategies, responding to the COVID-19 pandemic, implementing new learning technologies, authoring funding/bid applications, curriculum reviews, developing commercial training programmes and providing quality assurance activities. 
The Board of Trustees are wholeheartedly committed and enthusiastic about the future of ALT. It is a true privilege to be part of it. There are an exciting range of new developments planned to provide our members with even greater benefits and opportunities for collaboration, learning and sharing. We have a bright future and I'm very excited about the opportunities ahead.
To ensure a smooth transition to the role, I will be working with Maren and the team from the beginning of August. I will share updates on my blog and hope that you will connect with me. I'm looking forward to meeting our members and stakeholders at the annual conference in September.
Remember to book your place today and join us to celebrate 30 successful years!
You can connect and follow Billy on LinkedIn, Twitter or Mastodon.
Topic: