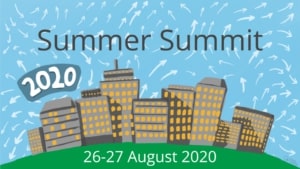 Online Summer Summit 2020 - Sponsorship packages now available 
The ALT Online Summer Summit 2020 will bring together Learning Technology practitioners, researchers and policy makers to share strategies for the next academic year and the new challenges now facing us..
Organised by the leading professional body for Learning Technology in the UK, the Summer Summit will bring together leaders, researchers and practitioners from across sectors.  With a packed programme over 2 days we will explore the themes of crisis, care and complexity. The Summit has an international line up of featured speakers, practical sessions and panel discussions on topics ranging from assessment to student wellbeing.
The programme for the summit will be made up of sessions with a practical focus on support, sharing expertise and networking. We will also include a special "jobs board" feature to champion recruitment and the new Members Directory of consultants and external services as well as strategic/leadership discussion.
We have now launched our exclusive sponsorship opportunities for organisations who want to support the event, engage with ~1000 learning technology professionals from across sectors and share our community values. We offer Member organisations a discount on all sponsorship packages, so if you aren't already a member, join today.
We have prepared several sponsorship packages, including Headline Sponsor, Strategic Sponsor, and Session Sponsor. Full details of the packages can be found on our Sponsorship page.  As always we are happy to tailor what we can offer to meet your needs.  
If you have any questions regarding this year's event or would like to discuss the options in further detail please don't hesitate to get in touch, emma-jane.brazier@alt.ac.uk or on 01865 819009.