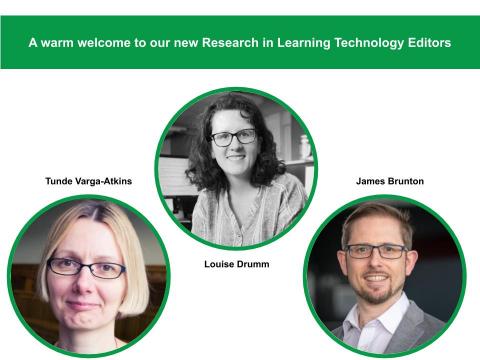 We are delighted to welcome new Editors to the Editorial Team for Research in Learning Technology.
Led by Editor-in-Chief, Lesley Diack, the open call for expressions of interest and subsequent recruitment and selection process has led to the following appointments: Tunde Varga-Atkins, Louise Drumm and James Brunton will join the Editorial Team as Editors alongside Lesley Diack, Liz Bennett, Michael Flavin, Sarah Honeychurch, Simon Thomson, and Gail Wilson. You can find more information about the Editorial Team here. 
The Trustees of ALT congratulate all new appointments and extend a very warm welcome to all!
Meet our new Editors
Tunde Varga-Atkins (@tundeva) is a Senior Educational Developer at the Centre for Innovation in Education, University of Liverpool. Tunde support programmes with curriculum design and enhancement with a specialism in digital education, including the considered and critical use of digital tools for learning and teaching. Her doctoral thesis was a case study of digital capabilities in disciplines. Tunde is passionate about student evaluation and pedagogic research. She is the outgoing Chair of ALT ELESIG, a special interest group aimed at building the capacity of practitioners in HE and FE across and beyond the UK. Her specific areas of research encompass areas in curriculum evaluation, assessment and feedback, digital capabilities, and more recently artificial intelligence in education and organisational learning. In addition, Tunde likes to explore multimodal and creative methods in both her research and education practice. She has worked with using drawings and diagrams for data elicitation, used poems for data analysis, and combined different existing methods, such as the nominal focus group, to support curriculum evaluation.
Louise is a Lecturer in the Department of Learning and Teaching Enhancement at Edinburgh Napier University. She is the programme leader for the MSc in Blended and Online Education and also teaches and supervises on the Postgraduate Certificate in Learning Teaching and Academic Practice in Higher Education programme.​ She has worked in a number of universities in the UK as a learning technologist, academic developer, lecturer and software developer. She is also an experienced theatre director and practitioner, and likes to explore creative approaches to academic development.
Her PhD, from Glasgow Caledonian University, was on the role of theory in teaching with technology in higher education. Her research interests include the relationship between digital teaching and theory, critical digital pedagogy, open education practices, digital literacies and academic development.
Dr James Brunton is Assistant Professor and Programme Chair of the DCU Connected Psychology Major programme at Dublin City University, which is an online, open education programme accredited by the Psychological Society of Ireland (PSI). James is a Chartered Psychologist (C. Psychol., Ps.S.I.; C. Work & Org. Psychol. Ps.S.I.; CPsychol BPS) and an EDEN (European Distance Education Network) Fellow.
Working within DCU's National Institute for Digital Learning James' research interests include the psychology of identity formation, socialisation/orientation processes for 'off-campus' higher education students, online learning design, open pedagogy, and digital assessment. James is currently the principal investigator/DCU principal investigator on a number of locally and EU funded projects, including the Opengame (Promoting Open Education through Gamification) project and BUKA (Advancing Equity and Access to Higher Education through Open and Distance Learning) project.