ALT's Framework for Ethical Learning Technology (FELT) is designed to support individuals, organisations and industry in the ethical use of learning technology across sectors. It forms part of ALT's strategic aim to strengthen recognition and representation for Learning Technology professionals from all sectors.  The need for such a framework has become increasingly urgent as Learning Technology has been adopted on a larger scale than ever before and as the leading professional body for Learning Technology in the UK, representing 3,500 Members, ALT is well placed to lead this effort. We define Learning Technology as the broad range of communication, information and related technologies that are used to support learning, teaching and assessment. We recognise the wider context of Learning Technology policy, theory and history as fundamental to its ethical, equitable and fair use.
Building on ALT's professional accreditation framework, CMALT, which was expanded to include ethical considerations for professional practice and research in 2019, a working group of 120 members has helped define this framework for professional practice alongside tools  and resources to help for individuals, institutions and industry.
Explore more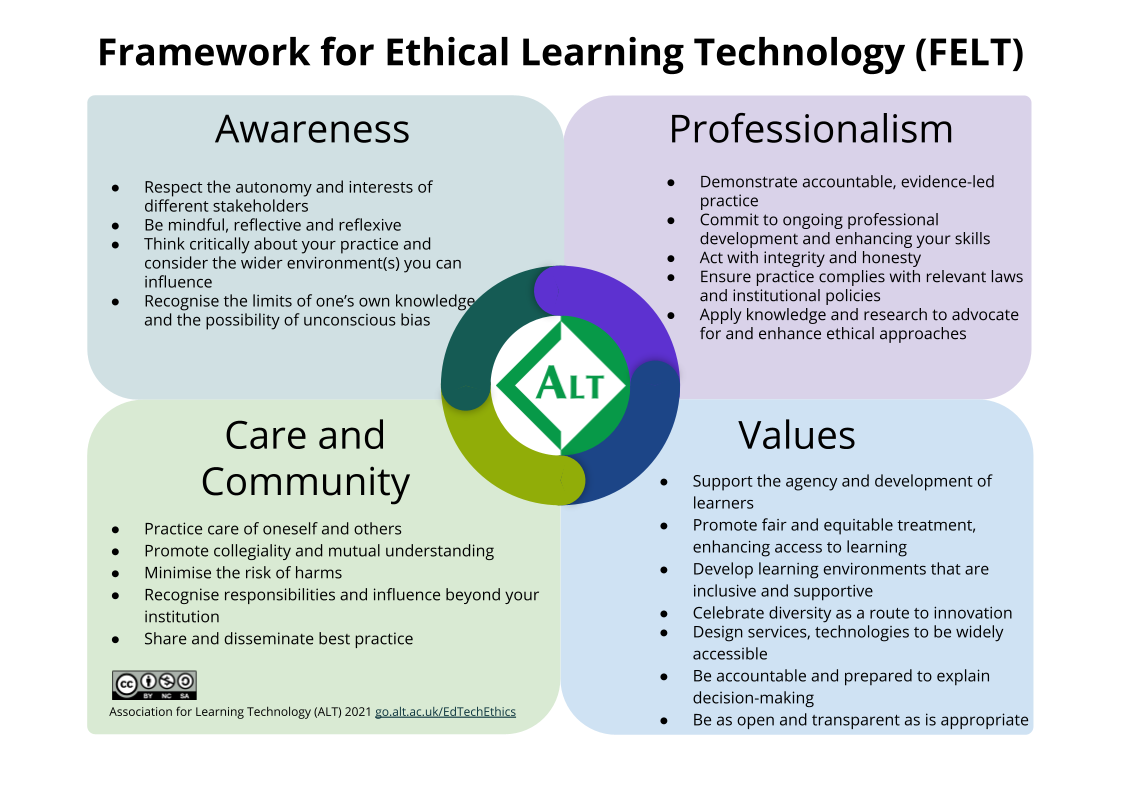 Framework Overview
Keep informed and contribute
The work to further develop the framework is now underway. We invite you to:
Keep informed

: Members will receive a quarterly update about the new framework. If you are not already a Member, consider joining

[9]

or sign up to our public monthly updates

[10]

;

Join the summit

: we are holding an annual summit meeting online, helping you learn about the new strategic developments and research;

Contribute

: We are actively looking for contributions in order to develop a robust baseline of policies and practice.  


 
How to contribute
Year 1, September 2021 - September 2022
In the first year our focus is on collecting examples of case studies and policies from individuals and institutions. Specifically we are looking for:
Year 2, September 2022 - September 2023
In the second year our focus will be on developing pathways to accreditation and expanding the framework via mappings to other standards. Specifically we are looking for:
Examples from accredited CMALT portfolios

Mappings to other professional/ethical frameworks


 
The ALT  Framework for Ethical Learning Technology is licenced by the Association for Learning Technology (ALT) CC BY-NC-SA, September 2021.  This license allows reusers to distribute, remix, adapt, and build upon the material in any medium or format for noncommercial purposes only, and only so long as attribution is given to the creator.  If you remix, adapt, or build upon the material, you must license the modified material under identical terms.
Text version of the Framework
Framework for Ethical Learning Technology (FELT)
Awareness
Respect the autonomy and interests of different stakeholders 
Be mindful, reflective and reflexive
Think critically about your practice and consider the wider environment(s) you can influence
Recognise the limits of one's own knowledge and the possibility of unconscious bias 
Professionalism
Demonstrate accountable, evidence-led practice
Commit to ongoing professional development and enhancing your skills 
Act with integrity and honesty
Ensure practice complies with relevant laws and institutional policies 
Apply knowledge and research to advocate for and enhance ethical approaches
Values
Support the agency and development of learners 
Promote fair and equitable treatment, enhancing access to learning
Develop learning environments that are inclusive and supportive 
Celebrate diversity as a route to innovation 
Design services, technologies to be widely accessible 
Be accountable and prepared to explain decision-making
Be as open and transparent as is appropriate 
Care and Community
Practice care of oneself and others 
Promote collegiality and mutual understanding 
Minimise the risk of harms
Recognise responsibilities and influence beyond your institution
Share and disseminate best practice