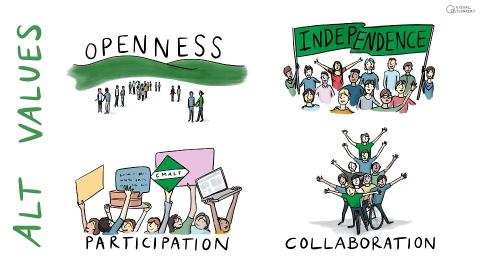 ALT's members are invited to attend this year's Annual General Meeting (AGM) to be held virtually at ALT's registered office at 10am (BST) on 24 June 2020. The AGM will be open to all and all eligible Members will receive joining instructions and information about how to vote the week prior to the AGM.
Please register to attend now [2]. 
All papers for the AGM and related information have now been published here https://www.alt.ac.uk/about-alt/how-we-are-governed/agm [7] .
The quorum for the AGM is twenty-five members of at least 12 months' standing. Individual and Certified members and the representatives of organisational members have one vote each (Associate Members are not eligible to vote).
The AGM includes Trustee elections and appiontments, including Professor Helen O'Sullivan, Pro-Vice-Chancellor (Education), Keele University, as the next Chair of ALT (see the full announcement [8]) and the uncontested election of David White, Head of Digital Learning at University of the Arts London as the next President of ALT.
Election statement, David White:
I have been part of the ALT community for around 16 years. Over this time I've taken an active role through running workshops and speaking at ALT-C and OER. I am also a regular participant in ALT online sessions. I feel I know this community well and bring a broad perspective from my extensive time in a cross-section of Higher Education institutions. 
As a Head of Digital Learning I have a real, lived, experience of what it means to manage and promote digital teaching and learning in a highly collaborative manner across a complex organisation. I manage a team of educational developers, elearning support and learning technologists so I am tuned into the concerns and opportunities which surround these roles. 
I have an international profile, based on open online practice, which intersects with active teaching and research communities. If appointed, I will be keen to help extend the reach and influence of ALT and advocate for the organisation's core values. 
Our relationship with digital has shifted radically in recent months leading to massive opportunities and risks for the HE sector. This is a key moment in time for ALT and I believe I am well placed to support the development of the organisation and the community.
Topic: