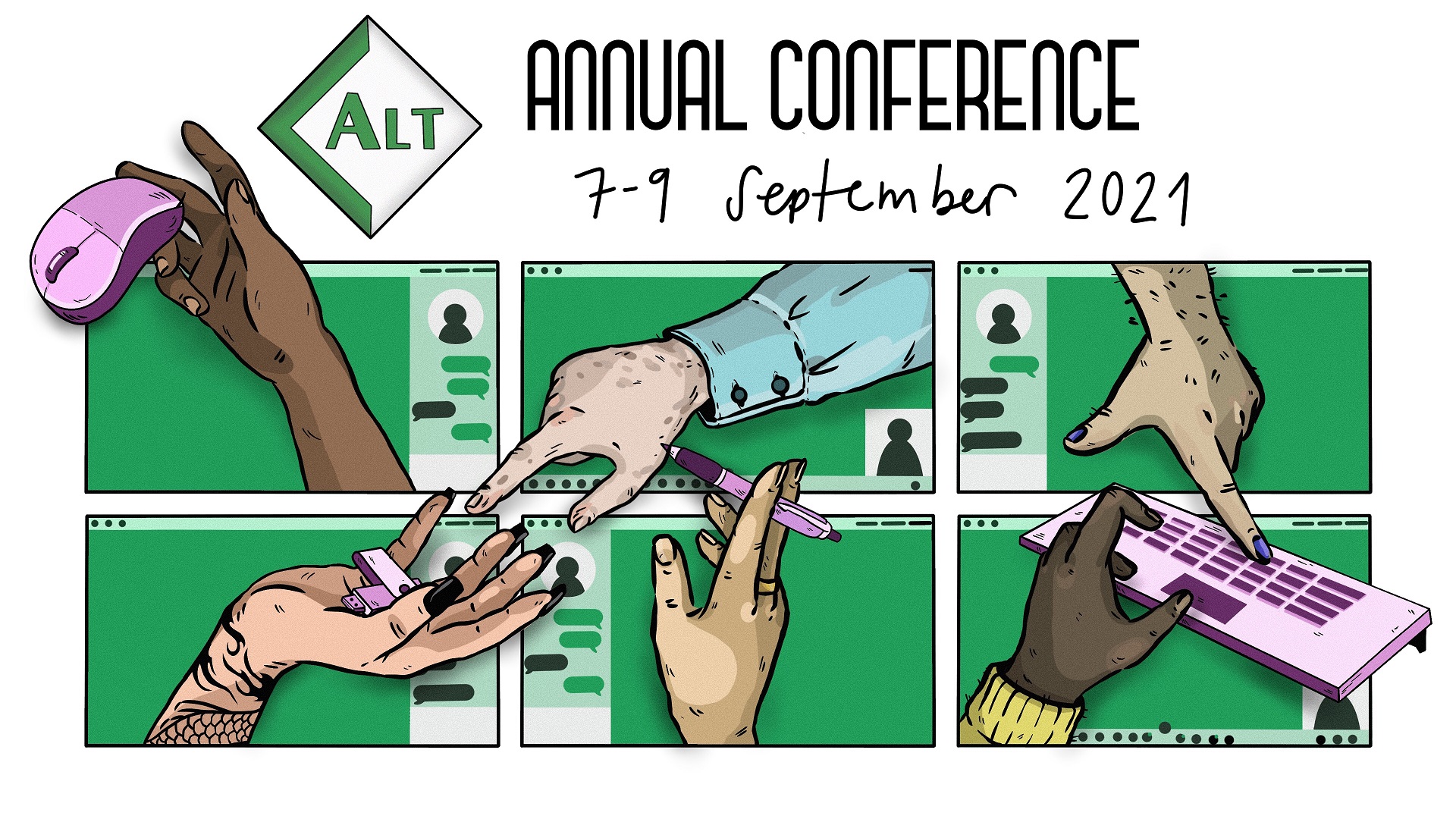 Shared Experience, Different Perspectives
The long-term impact of the last year and the ongoing pandemic is hard to imagine. Fully online and blended learning have become everyone's business; all educators, learners, managers, senior leaders and policy writers have been drawn into the world of learning technology. The response from everyone has been phenomenal. This year's Annual Association for Learning Technology Conference provides an opportunity to bring us all together to reflect on the shared experience from our different perspectives. How has it challenged us? Where have we succeeded? What lessons have we learned? What might the future look like?
Conference themes:
Leadership in learning technology

Inclusive practice

Digital well-being

Digital and physical spaces
Keynote Speakers including Sonia Livingstone, professor in the Department of Media and Communications at the London School of Economics and Political Science; Dr Lou Mycroft, a nomadic educator, writer and public speaker and Mutale Nkonde, founding CEO of AI For the People (AFP) will be joined by learners and experts convening two discussion panels on the first and last day of the event: On the first day of the conference, we put the learner voice centre stage. Join a panel of learners from different sectors who share their insights into Learning Technology in practice, their experiences of the past year and their expectations going forward. 
In our final plenary session of the conference, we are looking at what's ahead in Learning Technology. Our speakers will be sharing their perspectives on future developments and participants are encouraged to join in to share their own questions and thoughts.
Launching ALT's Ethical Framework for Professional Practice in Learning Technology
Nearly a year in development, we are excited to launch ALT's ethical framework for Learning Technology on the second day of the conference. Building on ALT's professional accreditation framework, CMALT, which was expanded to include ethical considerations for professional practice and research last year, our initial aim is for ALT to establish a framework that can be used as a starting point for informing the ethical use of Learning Technology by professionals, institutions and industry. We have received a lot of of input from the working group, including many links to resources and organisations that can help inform the framework and we have worked to define a set of ethical principles which will form the core of the new framework alongside tools including for example a checklist or reflective questionnaire, to help individuals, institutions and industry to see how these principles are put into action.
About the Conference
The ALT Annual Conference is the UK's main conference for Learning Technologists and one of the largest conferences of its kind. It is held over three days every September, providing a valuable and practical forum for practitioners, researchers, managers and policy-makers from education and industry to solve problems, explore, reflect, influence and learn.
This year's Annual Conference of the Association for Learning Technology will take place 7-9 September 2021. As the leading professional body for Learning Technology in the UK, ALT brings together professionals to disseminate research, share practice and develop policy since 1993.
This year's event will take place online and we are looking forward to welcoming 350 participants from 24 countries.
The conference has a packed schedule over three days [2], so in the social programme for this year's event we have included well-being activities to help you wind down and provide space to take a breath; get involved with creative and playful activities as well as events to celebrate our achievements as a community.
One of the highlights of this year's conference, will be the launch of The Future of Learning [3], at a gala chaired by Professor Helen O'Sullivan on Wednesday evening.
Notes for Editors
ALT (the Association for Learning Technology) is a professional and scholarly association which brings together those with an interest in the use of learning technology. As the UK's leading membership organisation in the Learning Technology field, we work to improve practice, promote research, and influence policy.

We have over 3,500 Members across education sectors in the UK and internationally.

If you are writing about, blogging or sharing images and videos about the conference using tools that support tagging, please use the tag #altc21.

Our Sponsors are listed at https://altc.alt.ac.uk/2021/sponsorship/meet-our-sponsors/ [4] .

More information about the conference: https://altc.alt.ac.uk/2021/ [5] .

Association for Learning Technology, Tel:  +44 (0)1865 819 009 URL: http://www.alt.ac.uk/ [6]

ALT is a Charitable Incorporated Organisation and Registered Charity in the UK, number: 1160039
Topic: