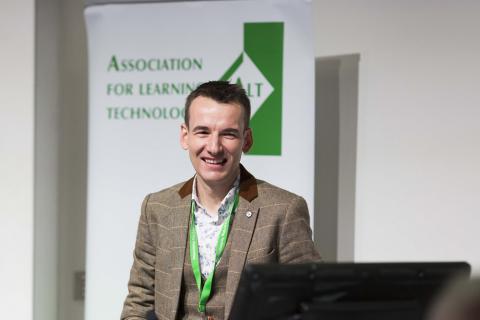 Dear Members
Martin Hawksey started working with ALT over eight years ago on ALT's first and highly successful open course, ocTEL. As our Chief Innovation, Technology and Community Officer (a job title which served as his opening joke for many presentations), Martin has worked tirelessly to make ALT's vision become a reality ever since. 
After many years of making a big impact as a senior member of staff, Martin will be leaving ALT in January 2021 to move onto new adventures as an intrepid edtech explorer, true to his influential blog [2]'s byline.
As well as developing and managing our IT infrastructure and Annual Survey, Martin has been a constant and central presence for ALT's community. Martin's work as a developer and open practitioner has informed how ALT as an organisation serves its Members and has shaped how we as a professional body innovate and learn. 
We feel fortunate that we have had Martin work with us and inspire us, particularly during this year of crisis. So we, the staff and Trustees of ALT, are already making preparations to say thank you. If you would like to contribute to Martin's virtual leaving card (read: spreadsheet), please contribute them via this Google form [3] . 
We are also planning a farewell karaoke special for the end of January, so get ready to practice your #TunesForHawksey. 
If you'd like to find out more about working with ALT, please keep an eye out for further information which we will post on our jobs page [4] or email jobs@alt.ac.uk [5] . 
Topic: