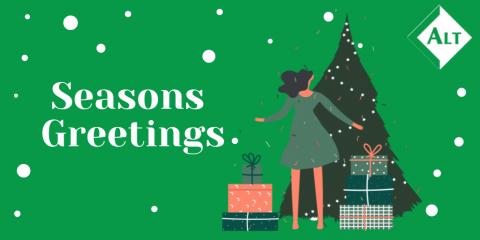 Season's greetings from all our Trustees and staff. It's been a very busy year in #edtech and we are going to take a well-deserved break from 23 December until Tuesday, 4th January 2022. 
We would like to take this opportunity to thank you for your continued support of the Association. We have welcomed hundreds of  new members in 2021, and as the Association grows your engagement becomes ever more important in helping us to strengthen our voice and increase our impact. If you haven't already, please do take a moment to complete our Annual Survey [2].
As the past couple of years continue to challenge us, we want to applaud our community for ensuring that students could continue to learn regardless of social distancing and lockdowns. If you haven't already had a look, the 2021 Impact report [3]celebrates some of our recent achievements accomplished as a community in the past year, and our Awards showcase [4] highlights just some of the excellent practice going on. 
Looking ahead to the new year we have a full schedule of events, member-led activities and publications planned. You can keep up to date via the members digest, the ALT News section of the website and by following #altc on Twitter or by browsing the #ALTC Blog.
For now we will take a break and wish you a season of peace and joy and all the very best for 2022!