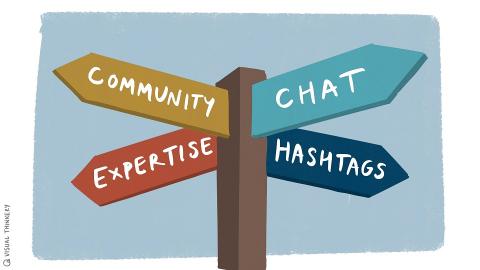 The annual sector audit is a key part of the work AmplifyFE [2] do to support the sector. The first sector audit published in July 2020 was widely welcomed and actively used across the sector. 
The initial audit identified close to 100 Communities of Practice (CoP) in total. The CoPs we audited include online community groups and networks around a common theme or interest set up by sector bodies and technology companies as well as independent groups run by individuals or groups of practitioners.
The data we collected include key indicators such as levels of activity, number of members involved, subject focus such as functional skills, governance, and platforms and tools used. 
The audit helped shape the AmplifyFE network and our support for practitioners in FE and vocational education for the past year. AmplifyFE has become a network to connect and amplify communities of practice for digital learning, teaching and assessment in vocational education. The first audit enabled us to start collaborating with communities from the beginning, and we now connect 1000+ practitioners across the sector. 
With input from the community, we were able to produce our first Community Map charting networks, conversations and resources. The map continues to grow as new communities, networks and hashtags are added and we welcome new contributions. 
In this year's update, we have focused on:
Communities that have stopped or started their activities;
Important changes to the sector landscape;
Tracking where the conversation is moving on social media. 
The data from the audit is openly accessible below and we are working towards a full audit in 2022, which will provide new, long-term insights into how things are changing across the sector. 
AmplifyFE Communities of Practice Sector Audit, Update 2021
Explore one of the communities featured in the audit: JoyFE
Topic: