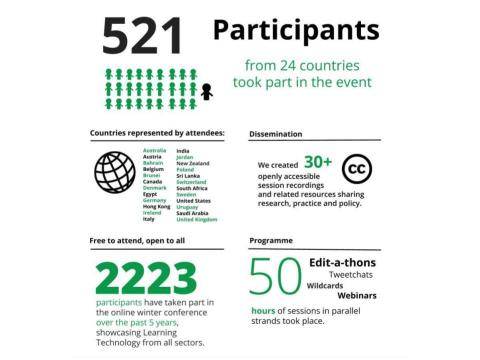 We hope enjoyed the 2019 ALT Online Winter Conference - thank you for taking part! We are celebrating the 2019 Online Winter Conference and it's success, by sharing this new infographic with you. 
We would like to thank all our presenters for contributing to a very engaging programme of sessions, and our volunteer session chairs for helping things run smoothly, as well as all of our delegates for attending and making it such a vibrant, interactive event.
If you missed anything from the conference, recordings from sessions are available by clicking on the session pages from the conference programme [2] (recordings are posted as an update in the session and also can be viewed from the 'Join Webinar' button). 
We invite you to support the work we do by making a donation with GiftAid and help us increase the impact of Learning Technology for public benefit. You can make a contribution and if you are not already a member you can find out more about our membership options [3].
Our next conference is OER20, taking place in London, 1-2 April 2020. Visit our OER Conference website [4] for more information and to register. Early Bird rates are still available until 31 January. 
Thank you for joining in with the 2019 Online Winter Conference!
Topic: