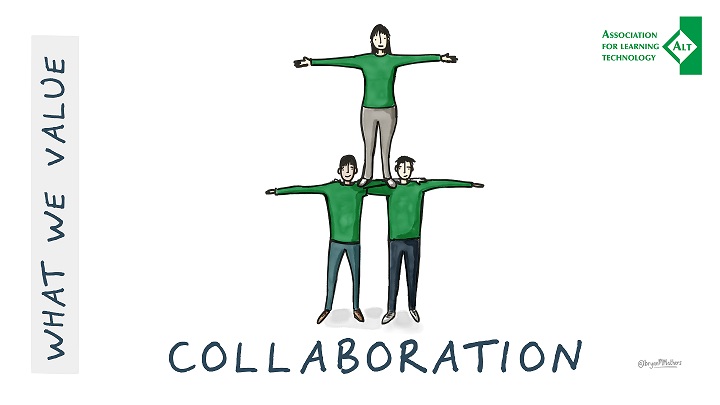 How and why should Learning Technologists engage with startups?
When we asked that question, we quickly came across a whole range of barriers that stand in the way. The manner in which colleges and universities procure, implement and develop their use of technology for learning, teaching and assessment doesn't easily align with working with small, agile businesses just getting started at the cutting edge of innovation.
This guide helps to bridge that gap and provides a starting point, a blueprint for collaboration. It is the result of consultation with and contributions from ALT Members and the wider Learning Technology Community. This document was produced by ALT in collaboration with Aula [2] and with particular contributions from:
Ayse Kok Arslan, Google (Contractor), Mountain View, CA
Samuel Butcher, Scientific Collaboration Specialist at Labster, @samuellbutcher
Maren Deepwell, Chief Executive of the Association for Learning Technology (ALT), @marendeepwell
Dan Harding, Learning Technology Officer at Keele University, @danielharding
Jenni Hayman, Program Manager, eCampusOntario.ca
Anders Krohn, Co-founder and CEO at Aula, @anders_krohn
Mikkel Lauritzen, Director of Partnerships at Aula, @mik_lauritzen
Kate Nicolson, Education Technologist, UK @KateNicolson
Sarah Sherman, Bloomsbury Learning Environment Service Manager @BLE1
Lucy Tallents, freelance educator & visiting academic at Oxford Uni, UK @lucytallents
You can now access the guide http://bit.ly/altcstartupguide [3] . 
We are still seeking further contributions including case studies, useful resources to include and innovative thinking on how Learning Technology professionals and startups can work together better. If you would like to contribute to future iterations of this guide, please get in touch or send us your contribution https://www.alt.ac.uk/contact-us [4] .
Read the foreword to the guide by Peter Bryant
The learning technologist has to exhibit many skills and capabilities in order to do their job effectively. Part advocate, part friend, part problem solver, part innovator, part negotiator and part futurist, the learning technologist brings together partnerships from across the institution for one purpose, to make education better. This is the common cause that unites every single one of us. However, the partnerships we facilitate require more than just our voices to achieve this aim. The problems we face and the opportunities we can exploit need us to engage with the institution, the learners, the community and with partners who believe in the same principles. At its heart, a successful institution is a community. Communities need leaders, they need innovators, they need advocates, they need citizens and they need members. Communities share values but they disagree and argue for what those values are and how they evolve and are applied. These debates make communities better. Communities come together to apply tools to problems, sharing and swapping expertise and experience to enhance how we use those tools, or invent new ones.
This is one of the key reasons to consider how or why you might engage and interact with start-ups. Institutions have the capacity to shape and influence a solution for their specific problems as opposed to bending critical interventions such as delivery and assessment to the requirements of the platform or technology. Building a successful and mutually beneficial partnership with a start-up can enhance your capability to enhance teaching and learning with and through technology. However, it is critical to ensure that the relationship between learning technologists and start-ups is built on the right foundation, like any good partnership. Recognising expertise, mutual trust and clear sharing of expectations and outcomes ensure that the potential tensions between start-ups and the institution are productive.
But equally important is the recognition that learning technologists can't do this on our own. Our capacity to lead and sustain innovation in complex environments is enhanced through the communities and partnerships we participate in. In learning technology, these communities will always involve working with vendors, suppliers and start-ups. Learning technologists will often be the nexus between those organisations and the innovative practices of learners and teachers. The flexibility, agility and enthusiasm of some start-ups can help to manage and enhance those relationships. Does every start-up I have engaged with work out brilliantly? No. Have some of them helped enhance teaching and learning? Definitely. And therein lies the most important test for building these partnerships and communities – Do they help make education better? It is a question you should apply to each stage of working with start-ups. Pose it openly, not hidden in plain sight. They may just be part of the way you can embed and successfully implement innovative teaching and learning.
Dr Peter Bryant
Head of Learning Technology and Innovation
The London School of Economics and Political Science
Topic: