The 19th international conference of the Association for Learning Technology was held at the University of Manchester, UK, 11-13 September 2012.
Keynote and Invited Speaker videos are now available on ALT's not-for-profit YouTube Channel.
Conference co-chairs: Jonathan Drori, Sarah Sherman and Julie Voce.
Plenary presenters: Eric Mazur, Natasa Milic-Frayling and Richard Noss
Welcoming address: Nancy Rothwell.
Download a four page PDF of the conference timetable. For an interactive version of the conference timetable, got to the conference networking and information web site.
 
---
Major Conference Sponsors
The Trustees of ALT are grateful to the following organisations for their generous "anchor" support for the 2012 conference.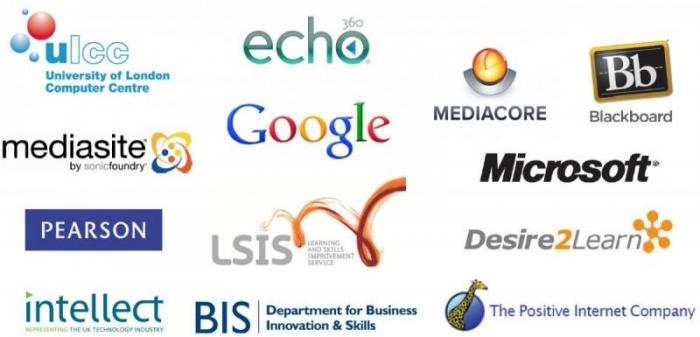 ---
Web Conferencing Partner                   Media Partner


---
About the conference
The time, effort and money that learners invest in their education need to be matched by commensurate learning experiences, improved use of technology in learning, and effective methods of delivery, all underpinned by sustainable business models. Here are three of the hard questions that we face, both as institutions and as individuals, each centred on the development of knowledge about technology in learning:
How can learning technology better support the core processes of learning, teaching, assessment, recruitment and retention?
What will be the place of open educational resources and other kinds of free, shared, low cost or informal support and organisation in good provision?
How should we respond to learners themselves, who are increasingly voluble in their desire for value for money and for effective use of technology?
Speaking in June 1962, John F. Kennedy railed against our tendencies to "hold fast to the clichés of our forbears", "subject all facts to a prefabricated set of interpretations", and "enjoy the comfort of opinion without the discomfort of thought" [1]. He called for a "new, difficult, but essential confrontation with reality".
ALT-C 2012 provided a valuable and practical forum for practitioners, researchers, managers and policy-makers from education and industry to come together to explore, reflect, influence and learn.
Sign-up to a low-volume email distribution list about the conference; download a PDF of the flyer for the conference [1.5MB; September 2011].
---
[1]  Go to http://go.alt.ac.uk/2bCSZD2 for the full text of Kennedy's speech.
Key Dates
November 2011: call for proposals for demonstrations, full proceedings papers, short "Pecha Kucha" presentations, short papers, symposia, and workshops
December 2011: call for sponsors and exhibitors
January 2012 to 12 March 2012: submission of proposals for inclusion in the conference programme
April 2012: review, acceptance, rejection and editing of proposals
March 2012: bookings open
6 July 2012: booking deadline for presenters (extended from 3 July)
17 July 2012: early-bird booking deadline (extended from 3 July)
17 August 2012: bookings close
Conference themes
The conference themes were:
Problem solving– finding effective solutions to technical problems, and using learning technology to solve institutional problems;
Mainstreaming– applying learning technology on a large scale in pioneering ways that enthuse learners and are welcomed by teachers and administrators;
Openness and sharing– methods and frameworks for collaboration and sharing of knowledge and resources between practitioners and between providers, and the evidence to justify this;
Sustainability– of technologies, models, and approaches;
Entrepreneurialism– moving resources from where they have low yield for learning and for learners to where their yield is higher.