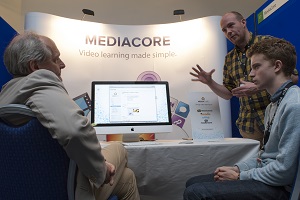 In order to help exhibitors make the most of their time at the conference we introduced the following changes for ALT's Annual Conference in 2014:
Networking – attendees were asked to opt-in to a participant list to be shared with exhibitors and other participants at least a week before the conference, so that exhibitors were able to start networking in advance.
Exhibitor sessions – there was a dedicated area in the exhibition hall where exhibitors could run sessions for participants, which was publicised as part of the conference programme.
Catering arrangements – tea and coffee was available all day in the exhibition area, which was the main refreshment point for the participants. 
The cost of the full conference exhibitor package was £1950, and included the following benefits:
Access to an opt-out participant list to enable networking, which will be released at least a week before the conference
Opportunity to run informal sessions for participants in the exhibition space
Description in conference guide and online
Two exhibitor registrations
3m x 2m x 2.4m (w x d x h) stand in professionally supplied shell scheme
Standard set-up of one table and two chairs, wireless internet access, one 500w 2 amp socket